On October 27th, Professor Wu Zhifu, Vice President of Taiwan Tatung University, and Dr. Lin Kaijie, Dean's secretary of School of Design, paid a visit to Jiangnan University. Dai Yuebo, Vice Secretary of the Party Committee of Jiangnan University, met with visiting guests. Qiu Jianping, Secretary of the Party Committee of the School of Design, Zhang Linghao, Dean of the School of Design, Cao Ming, Deputy Dean of the School of Design, and Cai Jianying, Deputy Director of Hong Kong, Macao and Taiwan Office, attended the meeting.
On behalf of the school, Dai Yuebo welcomed the visit of Wu Zhifu and his entourage, and expressed his appreciation for the exchange of students and the cooperation of teachers and students in the field of design subjects since 2014. In the past three years, the number of exchanging students and teachers between the two universities has reached more than 60 and 10 respectively. With the help of the cross-strait work camps held by Jiangnan University, and the summer camps of Tatung University in Taiwan, both universities have realized the in-depth exchange between the teachers and students. The exchange mechanism promotes the positive exchange of young students. Dai Yuebo said that the two sides across the Taiwan Straits are the same source, and they have a lot of commonality in the course of ideological ideas and teaching research. To strengthen the cooperation of teaching and research between the two sides could effectively promote cross-strait youth exchanges and mutual understanding. Wu Zhifu thanked Jiangnan University for his reception. He said that Tatung University's teaching and research in recent years has well achieved by relying on practical projects and cooperation, especially in interdisciplinary fields. He hoped to further expand the relationship with Jiangnan University with its comprehensive university disciplines.
Wu Zhifu also participated in the International Conference on Design for Transformation and made the presentation in the field of health design at the forum. He would take this opportunity to establish closer research cooperation with the School of Design.
The School of Design in Tatung University has a highly similarity with our School of Design in the history, subject development and research field. Based on the common subject field, both schools will expand the depth cooperation and promote the emotional connection and the discipline field.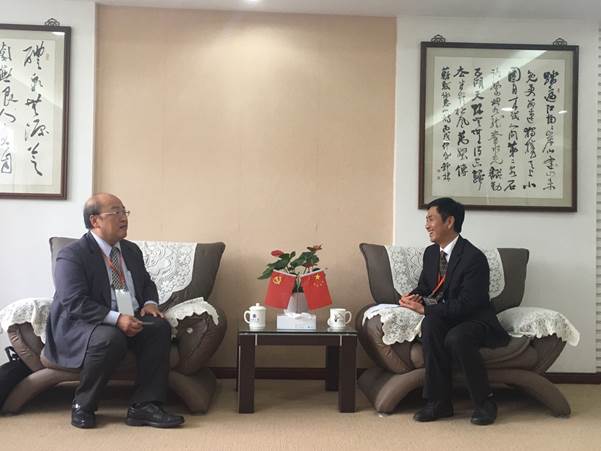 Dai Yuebo, Vice Secretary of the Party Committee, meeing with Vice President Wu Zhifu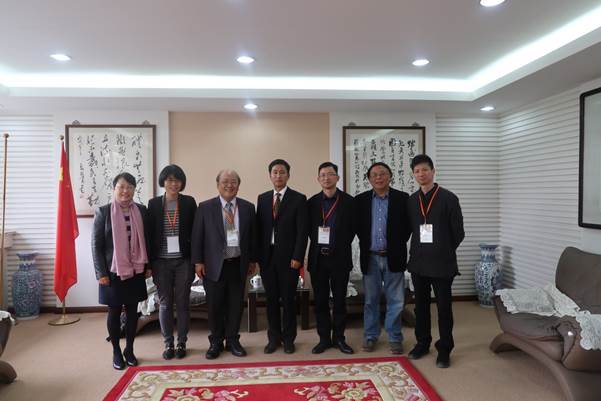 Group Photo